Houthies celebrate their cuop by presenting large amount of cash while Yemenis starving to live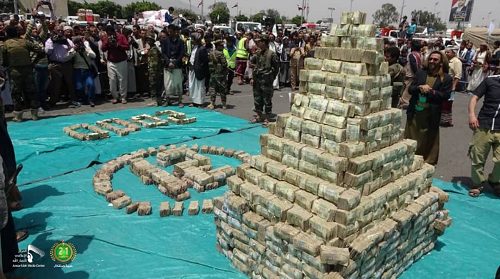 عدن نيوز - AdenNews :
The Houthi militia commemorated the six years of its invasion of Sanaa, and the passage of nearly two thousand days of war against the Yemeni government and the Arab coalition supporting it, by presenting large quantities of cash and foodstuffs in Al Sabeen Square in the capital, Sanaa, which is under the militia's control.
On Thursday, the Al-Masirah channel, affiliated with the group and based in the southern suburbs of Beirut, broadcast pictures of what it said were the donations of residents of the capital, Sanaa, to its militias, about half a billion riyals (350 million cash and 200 million in-kind items).
The channel said that on the occasion of the "anniversary of September 21" and 2000 days of what it called "aggression and steadfastness," the people of the capital provided a caravan with more than half a billion "350 million riyals in cash and 200 million riyals in kind materials" in support of the group's fighters.
In a country the United Nations says is teetering on the brink of starvation, Agence France-Presse commented on the parade, piles of food donated by tribesmen were loaded onto trucks and displayed at Al Sabeen Square in Sanaa.
And she continued: In the middle of the square there was a multi-layered pyramid of Yemeni riyal money, heavily guarded by armed fighters, and another group of piles arranged on the ground to write "2000".
Source : https://adennews.net/?p=119831