Karbalai scene in Sanaa.. Where do the Houthis lead Yemen?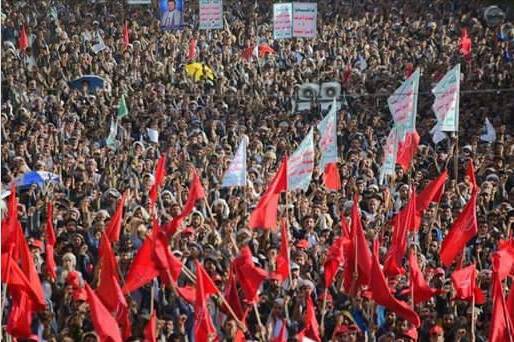 Activists and politicians reposted pictures of a rally organized by al-Houthi rebels in Sana'a last Thursday (Ashura Day), in rememoration of the killing of al Hussein bin Ali bin Abi Talib (may Allah pleased him).
In a rare scene for Yemeni society, Houthi supporters protested in Sanaa, rising red flags and crying banners, similar to Shiite crowds in Iraqi Karbala, Lebanon and Iran.
Activists expressed their shocking about this "strange" rejected scene by Yemeni society, and expressed their fear about the intention of the Houthis to transfer the rituals of "Karbala" to Sanaa.
In this regard, the writer Thabit al-Ahmadi said: a Karbalai scene in Sanaa .. the Arabs in general and the Gulf in particular are responsible for this tragedy..
Another activist said, "this is the scene whom you and I and all the Yemenis are guilt for. We all sat down and do nothing to prevent the collapse of the country in the militias hands, even though we know what they are exactly."
The Houthi rebels claimed that the ceremony came in the normal framework of free expression of thought and doctrine, while lot of Yemenis see that this crowed is establishing of sectarianism and racism in the country that has lived more than 1,400 years under a unique religious tolerance.
Short Link
Source : https://adennews.net/?p=48171