Tension raised in al-Dhala'e.. the finger is pointing toward pro-UAE forces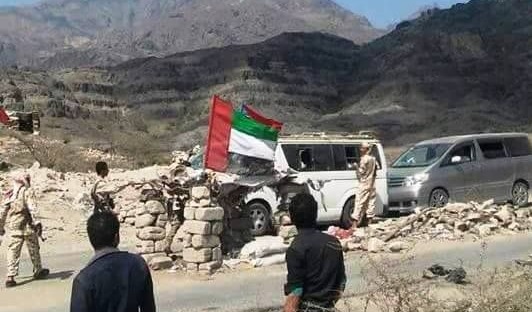 Tension raised last Saturday in the city of Dhala'e, between security forces and tribal militants.
Dozens of tribal militants from the al-Humidi tribe, loyal to the leader of Baligh al-Humaidi, who accuse al-Hizam groups of orchestrating several attempts to assassinate him.
A local source said tribal gunmen of his tribe (Al-Humaidi) supported by all the Azzariq tribes gathered in the morning.
The gunmen gathered at the Azzariq station and some were deployed in the souq. They said they would march to the governor to put an end to al-Hizam forces, which yesterday attempted to assassinate the leader Baligh al-Humidi through someone close to al-Hizam leader.
The forces of the al-Hizam forces were formed in Aden and a number of liberated provinces, financed and supported by the United Arab Emirates, acting according to the will of the rulers of Abu Dhabi. They also face numerous charges of violations and crimes against the citizens, including dozens of assassinations in Aden.
International reports have also been published accuses al-Hizam forces in conjunction with the UAE forces of running secret detention centers for abductees and practicing brutal and sexual torture against them.
Short Link
Source : https://adennews.net/?p=46551