UAE raises the Al-Qaeda card to justify its presence in Socotra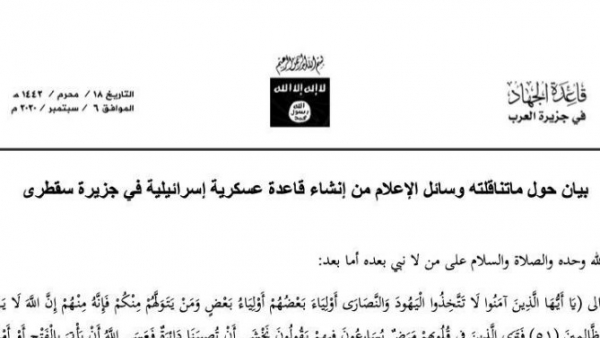 عدن نيوز - AdenNews :
Intelligence sources interested in jihadist groups in Yemen revealed a statement attributed to Al-Qaeda threatening the United Arab Emirates and Israel because of their plans on the Yemeni island of Socotra.
The statement, published by (siteintelgroup) as a closed material, and the British researcher and journalist Elizabeth Kandal published excerpts on her Twitter account, attacked the UAE and Israel for their efforts to establish military bases and spy facilities on the island of Socotra.
According to the statement, which appeared on the sixth of September, the organization called on the Yemenis to rise up, and vowed to take revenge on the UAE and Israel and to confront their plans, accusing the Abu Dhabi-funded Transitional Council of working for the UAE in Socotra.
This statement issued by Al-Qaeda comes after local and international reports confirming Israel's coordination with the UAE to build military bases on the island of Socotra, which has come under the full control of the UAE, according to a Yemeni government source confirmed yesterday.
The interest of the Emirati media and their activists was evident in this statement, which comes in line with its expansionist ambitions to remain inside Socotra.
The statement raises many questions about its issuance coinciding with a wave of anger in the Yemeni street towards the Emirati-Israeli presence in Socotra, and residents on the island rejected that presence, and their demand to return the island to the control of the legitimate government.
Source : https://adennews.net/?p=118599